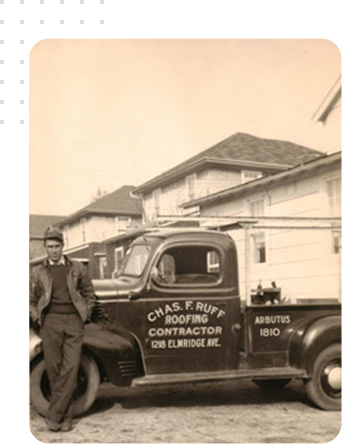 About Ruff Roofing –
A Brief Overview of Our Company
At Ruff Roofing, our mission is all employees are dedicated to helping you complete your roofing project in a timely, cost-effective way. We strive to provide products and services that are energy and earth-friendly, which upgrade your home's appeal and value. Your home, after all, is your number one investment!
Ruff Roofing is located in Baltimore, MD, has been a family-owned and operated business since 1939. We serve Maryland as a professional roofing contractor specializing in commercial and residential installations, maintenance, and repair of existing roof systems.
We have been repairing and installing roofs for over 80 years everywhere, from single-family homes to high-rise buildings. Ruff Roofing is a certified applicator for most roofing manufactures in shingle roofing, single ply roofing, and modified roofing system. Ruff Roofing is fully licensed, insured, and bonded and has been roofing Maryland for the last 80 years, a reputation for the highest quality craftsmanship, honesty, as well as integrity.
There are roofing contractors, and there's Ruff Roofing, keeping customers satisfied, and their investment assets secure and, most importantly, watertight for over 80 years!